Safety is non-negotiable when it comes to cell-based foods.
That is why I am so pleased to share the progress of the United Nations' Food and Agriculture Organization (FAO) on this topic.
Today, a milestone publication was made public which shares up-to-date technical knowledge on the food safety aspects of cell-based food production. This milestone document will support the FAO's 195 members (194 countries and the European Union) by providing sound scientific advice for informed food safety decision-making.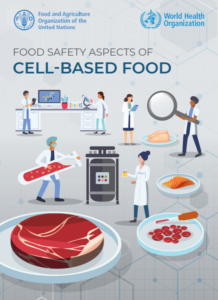 Overview
First, the report reviews the current literature on the terminology, production process, and regulatory frameworks around cell-based foods. 
Next, in-depth case studies of Israel, Qatar, and Singapore examine potential regulatory frameworks that might be used for these food products. 
Finally, the document's core is an extensive food safety hazard identification, conducted by 23 international experts at a 3.5-day meeting in November, 2022. 
Key takeaways
1. Terminology should be determined locally
The FAO makes it clear that they are not dictating a term to be used.

"Cell-based foods" is used to provide consistent terminology throughout the document, but the report (sections B-1 and D-4) calls for competent authorities to carefully consider which terminologies are most appropriate in their country.  

Section B-1 presents an in-depth literature review of the terminologies that have been used in this field. 

The report breaks it down by sector (authorities, industry, academia, and the media), providing some interesting insights into how each sector's preferred terminology and how they have changed over time. 

It comes as no surprise that there are many terms: 23! (9 of which have been used by the media alone!)

Ultimately, "cell-based", "cultivated" and "cultured" were found to be the three major terminologies used by all sectors of the field. 

The report highlights the lack of well-designed quantitative studies providing empirical evidence on which terminologies are best suited for markets. 

In section D-4.6, the technical experts outline special considerations that should be used when selecting terminologies for cell-based foods. 

Terms should:

be consistent across commodities and species
accurately describe the product, including any relation to "meat" or allergies
balance regulatory requirements with marketing needs
not be derogatory towards cell-based foods or conventional products
take local languages and cultures into consideration

Open and transparent decision-making is key – allowing stakeholder engagement from the cell-based food industry, the conventional meat industry, advocacy groups, and consumers.

Again, experts point to the need for empirical evidence, requiring research from qualified social science researchers to assess terms based on these criteria.
2. Regulatory frameworks for cell-based food are forming
In section B-3, the report goes into detail on the regulatory frameworks in 10 jurisdictions, highlighting which parts of their current regulations may be applicable to cell-based foods and where gaps remain.

Only 3 (EU, Singapore, and US) jurisdictions address cell-based food specifically in their food safety regulations!

However, most countries do have novel food regulations and the report concludes that, in most countries, cell-based foods can be assessed within these existing novel food regulations.

In section C, the report uses the countries of Israel, Singapore, and Qatar as case studies to dive deeper into the regulatory frameworks.

The report highlights that there is a lack of information and data available to support regulators in making informed decisions on cell-based foods,

calling for more data sharing globally.
3. Cell-based food safety can be informed by many adjacent fields
Section D is an extensive food safety hazard identification, conducted by 23 international experts at a 3.5-day meeting in Singapore in November 2022.

The report contains a list of potential hazards from cell-based food production and examples of how each could manifest within the cell-based food manufacturing process. 

The "causal chain examples" for each identified hazard illustrate the chain of events that would need to occur for the hazard to reach consumers and illustrates opportunities to control the hazard at each "link" in the chain.

For every hazard there are existing mitigation and testing control measures, many of which can be taken from adjacent fields. It is interesting to see how these adjacent fields range from conventional meat and seafood to fermented foods, processed foodstuffs, genetically modified foods, and even therapeutics! The unique challenge will be to bring together knowledge from all of these existing food safety disciplines and apply it to cell-based food production. 

In some cases, experts identified that further data and research were needed to assess safety, such as residues or metabolites of chemicals without historical use in food (for example, hazards #9, 27, 39, 44, and 48)
4. More data and data sharing is needed
With this document, the FAO acknowledges that cell-based foods have reached a critical mass where addressing it at a global, intergovernmental level is necessary. This was also shown by the fact that this technology was cited in the latest IPCC report and other recent FAO publications. 
Hazard identification, the main goal of this report, is the first step in a full risk and benefit assessment of cell-based foods. The next steps will require significant research, data, and engagement with diverse stakeholders. We agree with FAO when they say that  "more data generation and sharing at the global level are essential to create an atmosphere of openness and trust".
5. Impact is not a given
The FAO refers to cell-based foods as "an alleged sustainable alternative" – pointing to the critical fact that more research and data are needed for cell-based foods to deliver on their promised benefits. 
What role did New Harvest play?
1. Providing Reviewer and Technical Expertise
Yadira and I have been part of this process as technical reviewers since December of 2021.
The core of the paper came from a 3.5 day Expert Consultation in Singapore from November 1-4, 2022. I was proud to be part of the technical panel for the food safety hazard identification process, serving as vice chair of one of the four working groups. In addition, our colleague and long time New Harvest collaborator on safety, Kim Ong of Vireo Advisors, also vice chaired one of the working groups. 
Yadira and I were both honored to provide a technical review of the literature synthesis.
2. Supporting Foundational Research
Evidence-based policymaking requires evidence, and we were happy to see several of our papers and original research publications used by the FAO in this report.
The New Harvest-supported publications in the references include Scott Allan's publication on bioprocess design, the Tufts' groups publications on cell-cultured fat, Ted O'Neill and Zachary Cosenza's paper on cost-effective culture media, Natalie Rubio and Kate Krueger's paper on cell-based seafood, Emily Soice and Jeremiah Johnston's paper on immortalizing cells for food, Abi Glencross' paper on bringing cultured meat to market, and Jernej Vajda and Boštjan Vihar's paper on cultured meat compared to biomedical production methods. 
How cool to see 14 New Harvest fellows and staff in the references, across 8 different papers! 
A special shoutout to Cellular Agriculture Canada (CAC)'s paper about cell ag and the Canadian regulatory framework! Our very own Yadira Tejeda-Saldana led CAC before joining New Harvest.
3. Initiating Multi-stakeholder Research
Last but not least, we heard from global experts that an invaluable resource in the FAO's process was New Harvest's paper outlining a safety roadmap for cultured meat, co-authored by New Harvest, Vireo Advisors, Vince Sewalt and Dwayne Holmes. This paper was the product of our landmark Cultured Meat Safety Initiative (CMSI 1) and we were fortunate that Dwayne joined New Harvest shortly afterwards, bringing direct industry experience with food safety onto the public side.
What made this paper so useful, was the novel approach to pulling insights and reflections out of the private sector, and sharing them with the public sector. We could not have done this without creating appropriate fora for stakeholders across cellular agriculture to share information and data.
New Harvest's leadership in facilitating a global, inclusive approach to safety has proven to be incredibly influential.

As the FAO report states: "more data generation and sharing at the global level are essential to create an atmosphere of openness and trust".

We could not agree more.