Climate change is reshaping agriculture as we speak – threatening rampant disruption of our food system and supply chains.
Here in Canada, Genome Canada introduced The Climate-Smart Agriculture and Food Systems initiative to tackle this challenge.
Core to this initiative are Interdisciplinary Challenge Teams (ICTs) made up of researchers from across disciplines and institutions whose projects will translate R&D into sustainable solutions supporting a more resilient food system.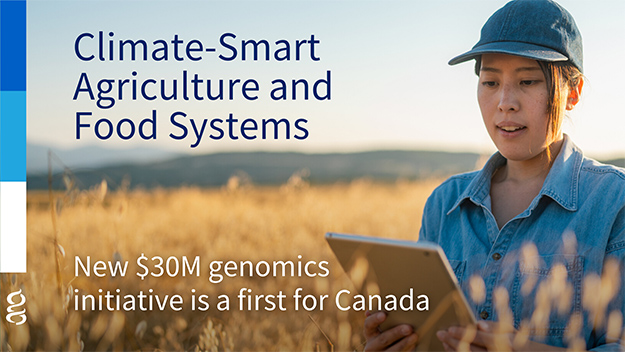 We're excited to share that New Harvest is part of two of the nine recently funded ICTs!
Here are the two projects:
Omics-guided Technologies for Scalable Production of Cell-Cultivated Meat 
Led by P. Ravi Selvaganapathy (McMaster University), Julie Audet (University of Toronto), Michael von Massow (University of Guelph), Michelle Bamji-Mirza (Collège La Cité)
This project will use genomic, proteomic, metabolomic and GE3LS (genomics and its ethical, environmental, economic, legal and social aspects) approaches to address technical, economic and social barriers to scaling and commercialization of cell-cultivated meat in Canadian and export markets while minimizing the carbon footprint of production.
Read an overview of the project here
Read an article about Dr. Ravi Selvaganapathy and the project here
$10 million from Genome Canada through Ontario Genomics over 4 years for 5 academic partners and 9 industrial partners
The Social Implications of Genomic Agri-Food Technologies: Ensuring Equity, Diversity and Inclusion in the Transition to Climate-Resilient Canadian Agricultural and Food Systems 
Led by Evan Bowness (University of the Fraser Valley and Trent University), Lenore Newman and Stefania Pizzirani (University of the Fraser Valley)
This project will generate guidelines and resources to promote inclusivity, address social equity concerns for marginalized communities and enable a just transition to new technologies for all.
Read an overview of the project here
$3.2 million from Genome Canada through Genome British Columbia and Ontario Genomics over 4 years for 6 academic partners, 4 organizations, 6 industrial partners and 1 indigenous group
What is New Harvest's role in these grants? As the leading field building organization in the cell ag space, we will act as knowledge brokers, conveners and expert advisors.
Our position as an independent nonprofit organization will allow us to provide unique insights about the latest state of the field as it evolves while building a community of leaders with the skills, knowledge and drive to spark growth and innovation in the Canadian agri-food system.
This is just the beginning of the interdisciplinary work we're fostering here in Canada.
Congratulations to the winning teams, very excited to see where these projects will take us.