April 2008: New Harvest attends the world's first In-Vitro Meat Symposium
It seems fitting to first discuss the world's first ever In-Vitro Meat Symposium which was held at the Norwegian Food Research Institute in Norway in April 2008. The purpose of this symposium was to identify and discuss the key scientific challenges that need to be solved for cultured meat to become a viable commercial product; to bring together a network of scientists working towards the same goal and organise their various efforts; and to facilitate the funding of the necessary research and activities.
The Symposium was hosted by the In Vitro Meat Consortium and the Norwegian University of Life Sciences, and was attended by New Harvest's founder Jason Matheny, FutureFood's project leader Kurt Schmidinger, and over 50 other leading scientists and representatives from NGOs wanting to see the development of cell cultured meat.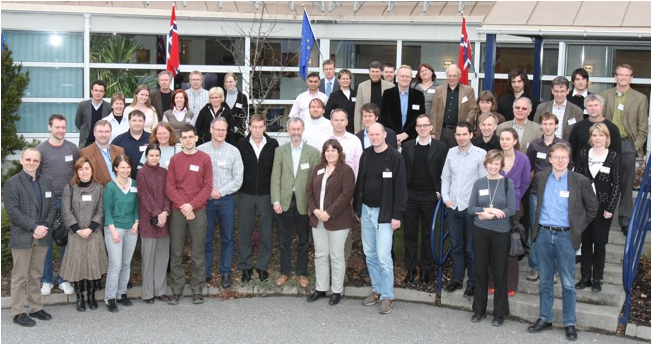 Matheny gave the first general introduction at the symposium where he summed up the visions of whys, wherefores and what can be achieved by producing cultured meat. He addressed animal welfare in particular, as well as human health issues related to meat consumption and environmental issues.
A great deal of content was discussed at the symposium, and a link to the programme can be found here. In summary, scientists discussed the current status of cultured meat research and pointed out that funding is currently the main obstacle to overcome. The talks focused mostly on starter cells, bioreactors and growth mediums, and sterility of the production process was emphasized to be the key issue for the success of creating commercially viable cultured meat. During the talks, scientists and various representatives reached the consensus that there should be investment in technology for efficiently producing stem cell muscle tissues on a large scale. It was further agreed that the development of processed meat like sausage, nuggets and burgers should be focused on rather than 'purer' meat such as steaks, as it is a much simpler process due to a much simpler structure.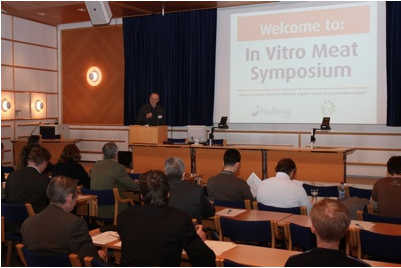 This symposium will merely be the first of many more to come, as New Harvest director Isha Datar hopes (with adequate funding) to hold annual In-Vitro Meat Symposia where scientists can continue to come together to discuss the current position of research, key obstacles to overcome and the impacts that cultured meat could have on environmental, animal rights, animal welfare, human health and economical affairs.
Blog post by Rachel Graham, New Harvest volunteer from the UK.