People are often surprised to find out that the open source foundational science of cellular agriculture is being advanced by one tiny, donor-funded non-profit. But it's true that New Harvest is only able to exist as an organization and bring the brilliant scientific minds of this field together because you keep showing us, through your financial support, that the possibility of meat without animals is something worth striving for.
Our work over the past decade has been supported by a community of 570 regular individuals just like you. Why do they choose to give to New Harvest? Read on to find out!
---
"I want a world where animals aren't raised and killed for food. I donate to New Harvest because they're playing an essential role in making my desire a reality. New Harvest continually finds big ways to advance cellular agriculture, a field I considered science fiction until recently."
-Jason Ketola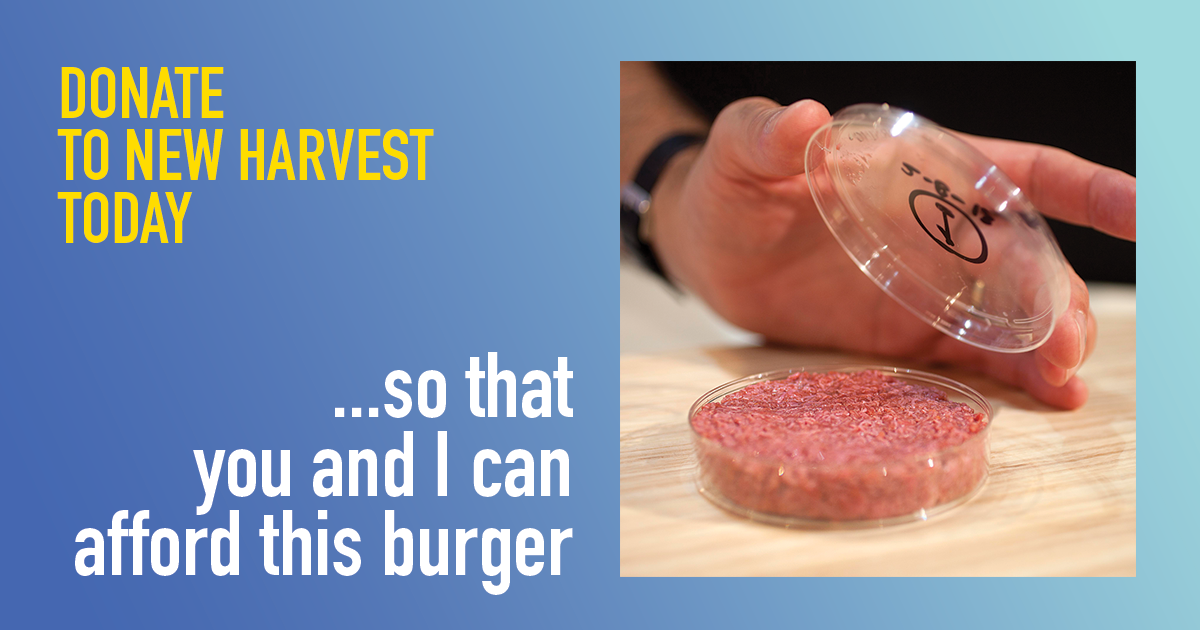 "New Harvest is working to build a better world; one in which we can provide protein for our ever-growing population in a more efficient, sustainable, and humane way. I'm grateful for its efforts!"
-Paul Shapiro
"I think it's really exciting that New Harvest is funding a lot of the basic research that needs to happen, otherwise this won't go anywhere… I have a pervading thesis that it's easier to change technology than it is to change people. There's lots of people who talk about wanting to reduce meat consumption, and that kind of thing. But I think that we'll be able to get cellular agriculture to the place where we can create lab grown meat cheaper and more efficiently and better than any kind of animal grown meat, faster than we can shift people off eating meat."
-Joshua March
"In 2013 I watched in awe the unveiling of the first cultured meat burger in London. In 2016 I actively researched the progress of cultured meat, at which point I came across New Harvest. I was astonished to find a dedicated group of people with an amazing vision: to transform our meat consumption. I am so happy to donate because I love their dedication to changing the way we produce meat. Instantly, a world without animal slaughter seemed so much nearer. That's why I donate."
-Katharina Eist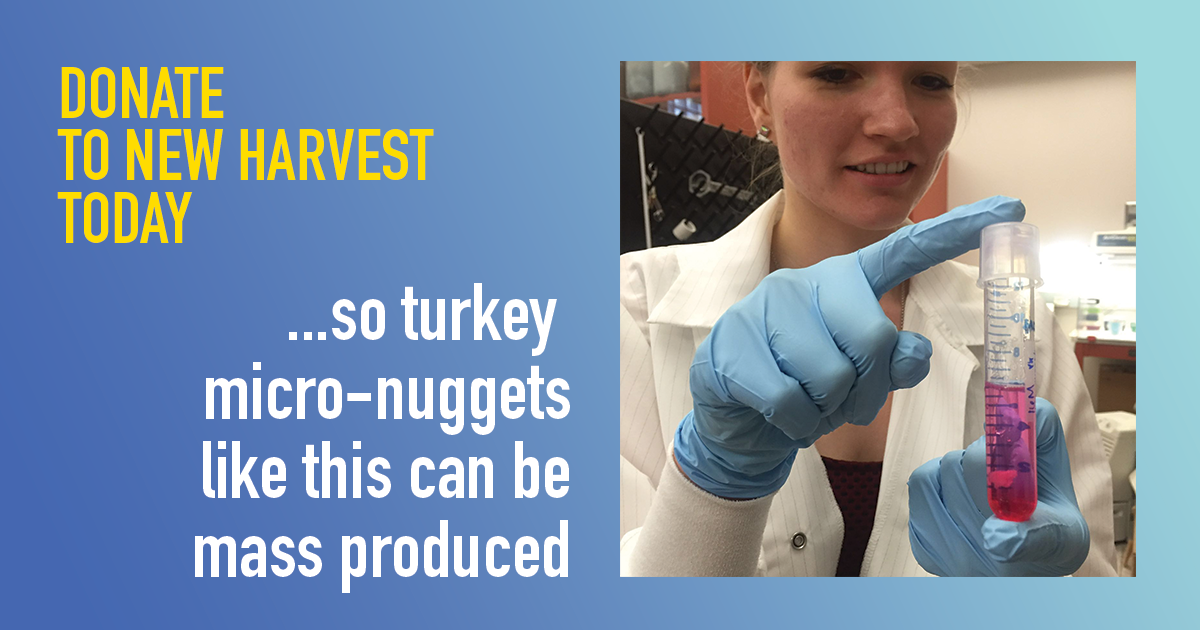 "I believe New Harvest is doing work that is absolutely vital to the future of our booming world population. New Harvest's efforts to completely rethink how animal agriculture works is an inspiration, as it is only through innovations like cellular agriculture that we'll be able to solve our current environmental, health, and ethical challenges."
-David Leibowitz
"New Harvest has been foundational in forging the field of cellular agriculture and driving it forward. It's amazing the milestones in this field that they have achieved and facilitated, all the while operating with minimal funding.  As someone who is concerned with animal welfare and who believes in the power of technology to transform our world for the better, supporting New Harvest has been, continues to be and will be by far and away the most effective and meaningful charitable giving I have ever done."
-Tracey Lall
"I work as a school secretary in northeast Ohio, and I live modestly. I have been donating $30 a month to New Harvest for over a year now. The fact that $30 is a lot to me, and the fact that I would cut other lifestyle choices before I cut this donation, should tell you how passionate and hopeful I am about the possibilities ahead with New Harvest. I saw, about 7 years ago, an insanely horrific pig slaughterhouse video. I could not unsee it, no matter how hard I tried. It changed me forever. Up to that day, my favorite sandwich was a BLT. After that video I began researching factory farming. It's been 7 years since I have had a BLT.
New Harvest makes me sleep a little better each night, knowing that smart, compassionate individuals are working tirelessly towards a day when that horrific video I saw will be a part of history and not a part of present day. Like slavery, it has no place in a civilized and kind world. Thank you, New Harvest. I only wish I could give more."
-Susie Thomas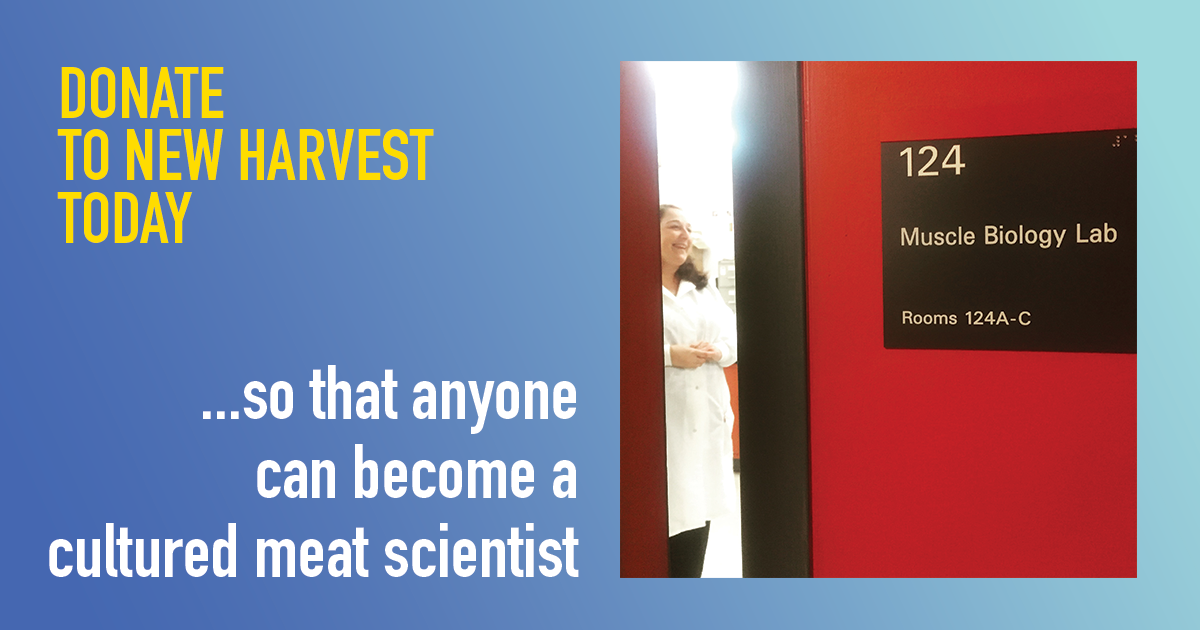 "I make regular donations to New Harvest because they are fighting what I consider to be the most important fight in the name of both animal welfare and animal rights… putting an end to factory farming, the worlds greatest cause of animal suffering, with practical, realistic and applicable solutions. This work is phenomenal and comes with the ability to positively impact the environment and antibiotic resistance on a global scale that I cannot even imagine!"
-Rachel Graham
"I found out about New Harvest from, and was inspired to contribute by, my grand daughter Marie Gibbons who works with the cultured meat program at NC State University. My contribution was given as much in support of the program as it was out of love for my grand daughter. I understand that the technological and financial hurdles confronting the development of cultured meat are daunting, but the ultimate success of this program will literally change the world."
-Ron Barbee
"I donate to New Harvest because their work is critical to advancing cellular agriculture. Whether it's jump-starting companies, funding research, or building up the scientific community, New Harvest is at the forefront of creating a healthier and more humane food system."
-Anonymous
"I love supporting this idea. It takes a completely different approach to lowering animal suffering, one that could have a much stronger impact in the future compared to, for example, standard vegan activism. Being a vegan myself, I understand that this might be a controversial topic, but regardless of opinions of individuals – once your mission fulfills itself and we will grow tissue in a lab, there will be no suffering involved, therefore the mission will be accomplished from a vegan perspective too."
 -Lukas Cech
"The research New Harvest funds has the potential to transform the global food system by making animal products animal-free and therefore environmentally sustainable and completely humane. It's hard to argue that there's a more important goal in the world. The world needs New Harvest, and New Harvest needs the world to support its work."
-Trent Eady
Are you a donor who would like to share why supporting New Harvest's work is important to you? Get in touch with Erin! And if you'd like to join our community of donors and make a contribution to open cellular agriculture research, click here!