January 14, 2013: Isha Datar's first day as New Harvest's Executive Director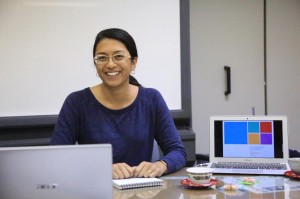 Between July 2004, when New Harvest was founded, and January 2013, New Harvest's work was very much away from the public eye, and the organization consisted solely of founder Jason Matheny and other scientists working on the development of cultured meat. All of this, however, dramatically changed when Isha Datar became director and gave New Harvest the public face that it had been since lacking.
Previously, New Harvest funds were  sent to researchers in the Netherlands or used to send researchers to conferences. Isha says, "It was important work but it didn't necessarily foster an increase in the number of people working on cultured meat research or the number of people excited to support it".
Over the past year Isha has redirected much of her efforts towards creating a New Harvest community. She says:
"When I am asked how long it will be until we see cultured meat in the market, I always say it is dependent on man hours, not time. The more people we have working on it, the faster it will go. This is why I've focused on creating community in the past year or so"…"I feel that scientific advancement can happen in two ways A) by having funding, which attracts researchers or B) by having a research community, which attracts funding. Since our funding abilities are low and past attempts to seek funding without having a strong community has not worked too well so far, I am trying to build the community first."
In just one year Isha has achieved some incredible milestones for NH. Just some of which are:
The introduction of 11 board members and over 90 community members including new researchers and volunteers
An increase from just 600 to 5500 (and counting) fans on their Facebook page, increasing the number of posts from just 3-5 per month, to engagement at least once per day
A relaunch of the website in April last year, and a redesign in June this year
And all of this has resulted in the incredible achievement of a 75% increase in funding for cultured meat from 2012 to 2013.
Isha has worked tirelessly to fulfill New Harvest's aim of making factory farming obsolete through advances in science and technology, by creating a huge, supportive community consisting of individuals of incredibly diverse interests and expertise. Having already achieved all of this, her next focus is to switch gears to fundraising so that we can generate even more funding for the vital research needed for cultured meat production.
A huge well done Isha, and I think I speak on behalf of all our community members when I say that we are all looking forward to seeing what you can achieve over the next year and beyond!