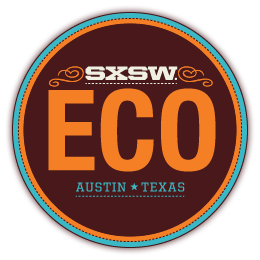 New Harvest's Isha Datar participated in a panel discussion at SXSW Eco in Austin, TX, USA, October 6-8th, organized by IEEE. IEEE (Institute for Electronic and Electrical Engineers) is the world's largest professional organization for the advancement of technology. Their magazine, IEEE Spectrum, recently wrote a great piece  – maybe the best so far this year – on plant-based meat alternatives, The Better Meat Substitute.
IEEE put together a panel with Isha from New Harvest, Pablos Holman from Intellectual Ventures (famous for the Modernist Cuisine cookbooks), and Glenn Zorpette, the author of the article above. The panel topic was "Hunger Solutions: Feeding 10 Billion People" and covered technologies that could help feed the world.
The panel was followed by some very stimulating conversation – about how technology developments can mutually exist with a slow food movement; about how food needs more data; about how tailored diets are the future of nutrition; about how to 3D print a pizza. Cultured meat opened some minds, without a doubt.
The discussion closed with a tasting of foods made with cricket flour and whole crickets – no doubt another protein alternative we should open our minds to.