tl;dr — check out the archive of Slido submissions in this google sheet and review the official Slido interaction report here. 🎤🤳
On July 19 and 20, over 300 New Harvest community members gathered at the MIT Media Lab in Boston for our fourth annual conference.
Our MC, Kristin, gave them the following instructions
Take out your phones (yes, seriously do it! I want to see everyone's phone out 📲) → Go to www.slido.com → Insert code #NewHarvest2019
From there, attendees (including those live streaming from home) could submit questions throughout speakers' presentations for the subsequent Q&A. This feed was projected and updated in real time on stage as people upvoted and downvoted each other's questions.
We've been using Slido since our very first conference in 2016. Each year the tool gets better and better. This time, they added a downvoting function, customizable color scheme, and a way to embed our live stream within Slido itself.
After the event, Slido provided us with an archive of the questions and visualized analytics.
This is what stood out to us!
💥We had 429 active users, 100+ of which were remote.
We only had 300 people (at most) in the room at any given time. 429 active users means that almost a third of our audience members were using Slido as they live streamed from home…way more than we expected.
💥Attendees asked 566 questions with a total of 2,702 likes and 656 dislikes.
84 percent of questions were asked anonymously. But not the 11 questions from Vince Sewalt, our most influential user and one of our 100+ live streamers! His 11 questions received a total of 74 likes. In second place was Leila Strickland, with four questions and 45 likes.

Vince leads product stewardship and regulation at DuPont and has incredible insights from his career in the enzyme industry about how cellular agriculture companies can navigate the regulatory landscape. He discussed the similarities between the cell ag industry today and the industrial enzyme industry 35 years ago in a fireside chat with Isha at the 2017 conference.
💥Participants sent 530 votes in five polls.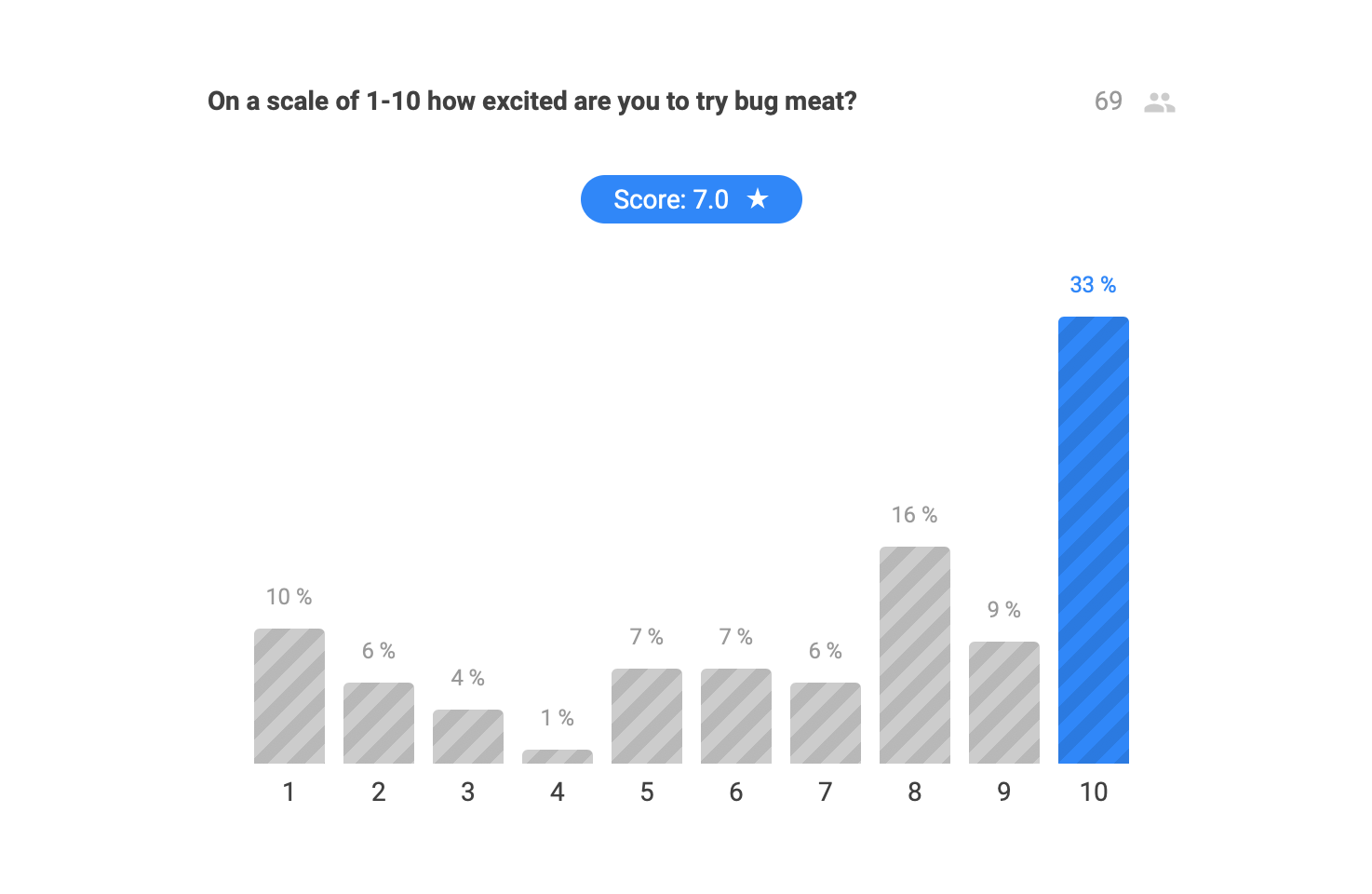 Behind the scenes 👀🧩
Every question that appeared on the screen was manually approved by Camila, our amazing Slido rep. She monitored the incoming stream of questions, rejecting only those which were duplicates, distracting, or felt malicious.
A total of four laptops were used to toggle between the PowerPoint slides and Slido feed. The AV team — led by the appropriately-named Steve Sargant — demanded that we always have a backup ready to go in the event of any glitch. We appreciated Steve's rigor when we did, in fact, have a glitch during a presentation which was rendered virtually undetectable by the audience thanks to the four laptop setup.
Two of the four laptops are shown below, in the Slido corner of a long AV table. Camila wore a headset to communicate with Steve at the other end!
Slido was a huge success 👏
As we knew it would be! Thank you to Camila, Alex, the entire AV team, and volunteers Vikram and Quinn for making it happen.
"I go to conferences every other week and I've never seen an audience this engaged." — Camila