Audience members would submit questions or answer polls via their phones or laptops, and the stream of questions was projected onto a screen for the speakers to see in real-time. The audience could upvote their favorite questions, which would then make their way to the top of the stream as they garnered more likes.
Top questions would appear on the screen for the speakers to address.
What did participation look like?
There were 

261 

active users (out of 350 registrations).
Attendees asked 

498 questions

 with a total number of

 1529 likes.

Attendees made 

221 poll votes

.

93% 

of questions were asked anonymously.
Meera, a New Harvest volunteer, screened questions before they went live to ensure they were appropriate and on topic. (Some unapproved questions included: "Why is it so hot in here?" and "Can you test my teddy bear?")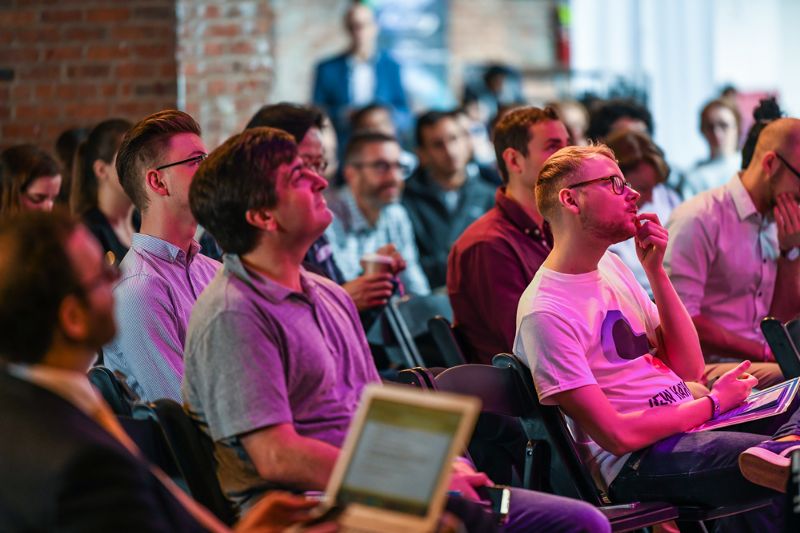 What were the questions asked?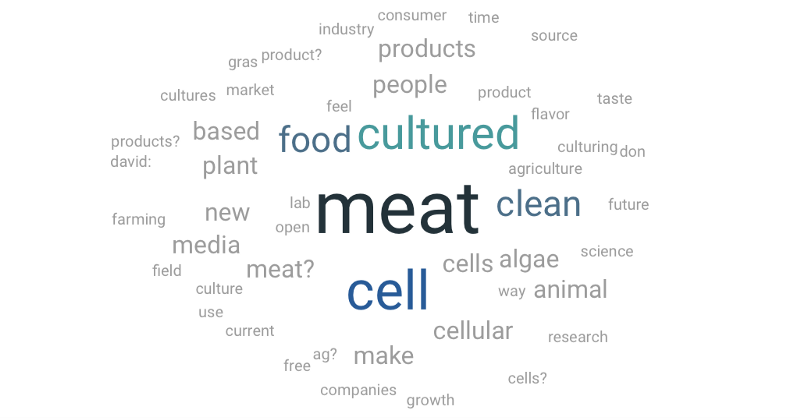 The words most frequently used in submitted questions make up this word cloud, giving you a sense of the main topics from the two days of conference.
The questions asked were extremely thoughtful and reading back gives a sense of just how engaged, interested, and motivated our audience was in understanding the intricacies of cellular agriculture.
Some were extremely scientific:
Do myospheres cultured in suspension spontaneously differentiate (not all cells in sphere remain undiff)? If so, what are efficient scalable strategies to sort?
How do you quantify appropriate texture of cultured meat? Has it been done? Is mechanical testing used for TE constructs (determine Young's mod & UTS) enough?
Others focused on societal impacts:
Can cellular ag promote economic development for working-class people (including farmers), or will it more likely lead to concentrated corporate wealth?
How would you respond to a public outcry concerning clean meat? How can you protect this industry from fear?
Some were highly practical:
What is the cost burden to a company to file a GRASS petition? A food additive petition?
How would you suggest small cell ag companies find partners in "big food"?
And others more whimsical:
Will you share your DIY recipe for culturing meat?
Could I farm algae in my bathtub?
The questions made for some very interesting qualitative data! Curious what was asked? We've posted the full list of approved questions here.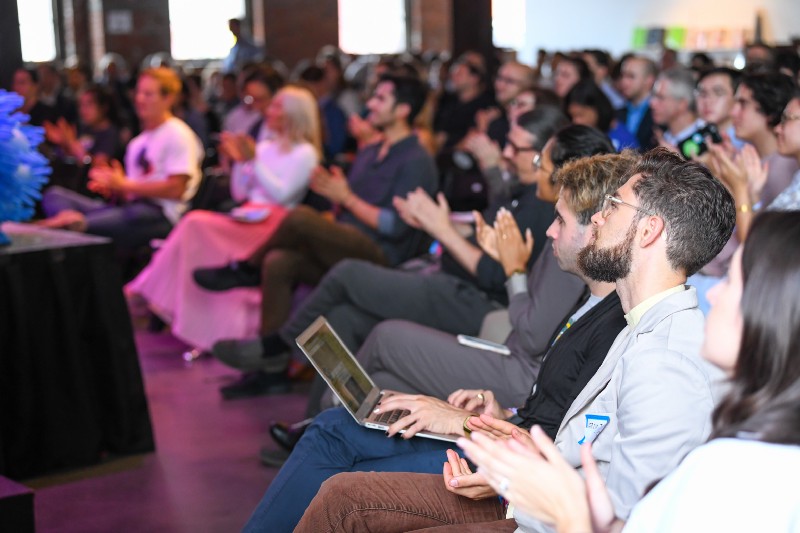 What about polls?
We asked three polls over the course of the conference, two of which were primarily to familiarize the audience with how to use Sli.do.
The best poll we asked was at the end of day 1: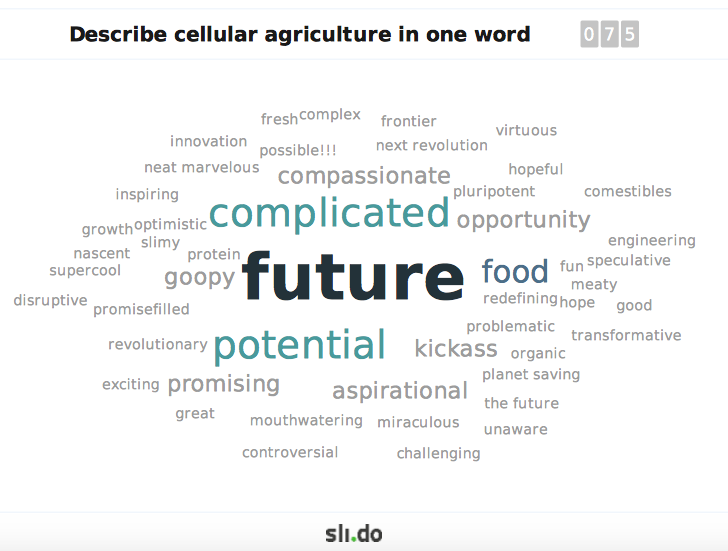 We're excited to see what our audience comes up with next year!