"No matter what I end up doing in five years or more, I know I will be doing something to help animals."
Perumal Gandhi is a New Harvest volunteer living in Long Island, New York. He is currently attending SUNY Stony Brook , completing a Master's degree in Biomedical Engineering with a focus on Tissue Engineering. Perumal was born and raised in India and did his biotechnology undergraduate degree there.
A meat lover during his childhood years, his love for animals saw him initially give up meat before becoming vegan after moving to the US. He discovered New Harvest  while planning for his master's degree, after Googling Mark Post when the cultured beef burger was tasted. Perumal hopes to dedicate his career to developing alternatives, either cultured milk, cultured meat, or animal testing alternatives.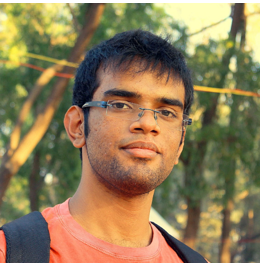 Perumal is shifting base to Cork, Ireland for the summer to do research on milk produced in yeast culture, an opportunity arranged by New Harvest. He's doing this work with Ryan Pandya, another New Harvest community member, via SynBio Axlr8r, a biotechnology company accelerator program run by SOS Ventures' Bill Liao. Together, Perumal and Ryan are making animal-free milk with a new start-up called Muufri.
We sat down with Perumal in the first of our interview series with New Harvest community members.
New Harvest: Hi Perumal, thank you for taking the time to sit down with us! You've just reached Ireland – how was your trip?
Perumal: Long, and tiring. The flight was 8 hours. From Stony Brook to the airport it was another 4 hours and then from Dublin to Cork it was another 4 hours! I got in yesterday evening.
NH: What are you doing in Ireland?
P: I've co-founded Muufri, along with Ryan Pandya, an engineer that I met through New Harvest. We want to make dairy farming more sustainable and humane by removing the cow from the process. We plan to produce milk in cell culture.
NH: How do you produce milk in cell culture?
P: Milk is a simple mixture. We make the key proteins and fats of milk using cells instead of animals. It is these components that make for the flavour and functionality of milk.
NH: What made you want to enter the field biotechnology?
P: I was not the biggest fan of physics and math but I liked biology. Biotechnology sounded the best because it was about making biology useful. Once I started reading up on stuff, I fell in love with the subject. It's a bit broad because we really cover everything but I enjoy the fact that you can build something that can have a positive change for the world.
I specifically selected biomedical engineering because Stony Brook's Biomedical Engineering department has a well-rounded program as we take MBA classes as well – plus, it was the most affordable option for me!
NH: Have you worked in research before?
P: I had two industry internships, both summer projects where I was expressing proteins using E. coli. For my final senior design project I was focusing on nanotechnology.
NH: Do you want to continue with research?
P: Well that's what I thought before, but now I want to be more on the business side. Research is a bit slow, I need a fast paced environment. So sooner or later I will get an MBA. I respect research for what it is but it's too slow for me. I am really excited to be researching with Muufri in this start-up/science focused setting.
NH: One of your interests is in looking at alternatives to animal testing, is that still something you are interested in?
P: Yes, there is this one lab at Harvard growing human tissues on a chip. They are connecting these individual organs – your heart, liver and lungs – all interconnected so the effects can be studied in a systematic manner. The research is really cool and will hopefully one day replace the toxicology tests being done on animals. It is one of my dreams. The three areas of cultured meat, cultured milk and alternative testing are all of interest to me.
NH: Where do you see yourself in five years?
P: The only thing I know for sure is that five years from now I should be doing something to help animals. That is the only goal I have. I expect Muufri to take off, but if we encounter a bump in the road, I could do my Ph.D. or go into business school. No matter what I end up doing, in five years or more, I know I will be doing something to help animals.
NH: What advice do you have for the next generation that wants to get into biotechnology as a career path?
P: If they are from the US, they are really lucky. I know what courses the undergraduates here are taking and compared to what we have in India, it is beyond brilliant. So make the most of it! Because there are a lot of other people who would die to have the same opportunities. I went to a normal engineering university so this is why I can clearly see the difference between here and there. And one more piece of advice would be to learn any sort of programming language. Anything. I learned Python after coming here, but it should be learned in undergraduate. It changes the way you think about the world. So learn any language, it's pretty easy, there are so many resources online. But it's a must-learn for the new generation.
NH: Any science un-related hobbies?
P: Fun hobbies? Not really. I'm not that crazy. I just study and go to the gym and hang out… I am just a normal person. I'm learning the guitar again. Just learning, teaching myself. It's going to take a while. I also started two companies during my undergrad, if that's interesting. It had nothing to do with biotech, I just needed some money so a couple friends joined in and we started a company for a few years. We had an online article writing company. Nothing crazy but it paid our education for two years. That was one company. The second was a t-shirt printing business.
And now I'm with Muufri which I guess is my third business and I can't wait to push this as far as it can possibly go!
If you'd like to get in touch with Perumal and find more about him or Muufri, he can be reached at perumal@muufri.com