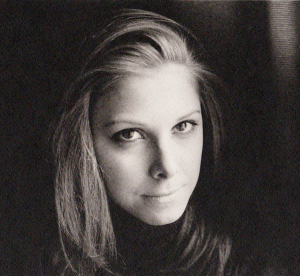 Gilonne has worked in corporate responsibility/sustainability, investment and fundraising strategy, and business development. Most recently, Gilonne worked with On Demand Books, a company disrupting the publishing industry with a on-the-spot book printer. She's also been a lawyer, made a film, and worked in the UN's Climate Change Unit.
New Harvest: Hey Gilonne! What brought you to New Harvest?
Gilonne: I was working with Joshua Katcher (who makes vegan menswear) on a project at Parsons, The New School, in NYC. We were working on putting together a Board for a textiles institute, and he suggested Isha. I saw there was an announcement on the New Harvest website that they were looking for a Development Director, and (serendipitous timing) I had come to a time where I wasn't going to be working for my old company anymore. So I spoke to Isha and here I am!
New Harvest: Tell us a little more about your background, what were you doing before this?
Gilonne: Well, I'm coming from a company (On Demand Books) that was disrupting the publishing supply chain.  We were producing a machine that prints a perfect paperback when you need it, for the same price as one produced offsite. Even with things like the Kindle, paper books are here to stay, but they're incredibly wasteful. Publishers must estimate the demand for a book and stock shelves accordingly – any books that aren't sold y the end of the year are pulped to make room for the next year's bestsellers. So that company does a very similar thing to what cultured meat is trying to do, introducing a more efficient technology to improve a supply chain.
New Harvest: Do you have any prior experience with cultured meat?
Gilonne: No, I had just heard about it in the news. I'm not coming from a science perspective; I'm coming from more of the bigger standpoint in terms of the rights of animals and the precautionary principle, which is that we should do nothing irreversible, and nothing to harm. Climate change was my specialty in law and also business—corporate responsibility and that kind of stuff. Cultured meat is crucial to environmental responsibility, not just for climate change but also biodiversity, so in that way this is just an extension of my sustainability advocacy.
New Harvest: Are you a vegetarian or vegan? Have you always been interested in animal rights?
Gilonne: I stopped eating meat when I was 15, and for 15 years afterwards I was either vegetarian or vegan. I also went into this raw food phase, which was very difficult to maintain. But when I was 30, I was training for the 15 peaks challenge in Wales. I was getting into shape for that, it was very demanding, and my trainer tested me and said I had a blood type that thrived on meat. I was very upset by that.
New Harvest: That sounds horrible…
Gilonne: I'm afraid to say I think he's right—that my metabolism thrives on animal protein. I was dreaming about steak once a week. So now I'm a very careful eater. I don't eat meat often, and I'm very careful to know that it came from—a proper farm, not a gruesome slaughterhouse, those sorts of things. A friend told me recently that they only eat meat when they know who killed the animal, and I think that's a very good attitude to have.
New Harvest: What have you been doing so far as Development Director?
Gilonne: Climbing up the learning curve! It's a lot to take in. I've also been talking to people in the New Harvest community, about the activities they're involved in right now and how they will fit into the future. I'm thinking about ways to grow and develop. There's a big opportunity to cultivate a big network in the coming years.
New Harvest: What exciting things do you see in New Harvest's future?
Gilonne: This is very tentative and not fully formed, but it looks like the direction we're going in is to focus on getting academic research and labs set up this year. Mostly, I plan to focus on expanding our community, education, and exchange of ideas. And of course, raising money for research.
New Harvest: You produced a movie—what was it called?
Gilonne: It's a documentary called "Stealing Klimt." There's actually a Hollywood version of it out right now called "Woman in Gold."
New Harvest: Wow! Any other cool hobbies? What do you like to do outside of work?
Gilonne: I have a dog named Sophie who comes to work with me everyday. She's wonderful and very sweet. I used to ride horses competitively and did horse shows until I had to go to college. And I like being outdoors, but I don't like playing team sports because I always feel like I bring the team down. Too much responsibility. But things like tennis and running I like because then the onus is completely on me.
Other than sports, I like to think I work well in teams.
New Harvest: It sounds like you will be a wonderful addition to the New Harvest team!
Gilonne: I hope so! It's a great privilege.
Feel free to welcome Gilonne to New Harvest at gilonne@new-harvest.org