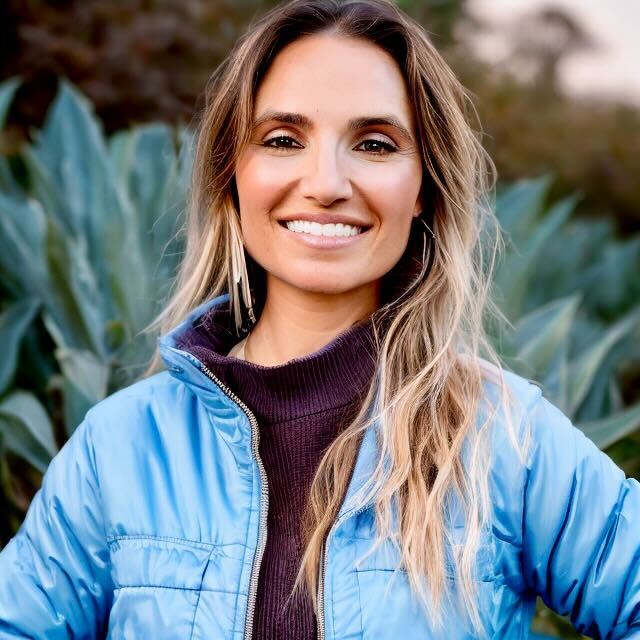 TELL US A BIT ABOUT YOURSELF.
I'm a problem-solver by nature. I'm curious and optimistic, yet grounded and pragmatic. I love challenging the status quo in pursuit of a better world and I gravitate toward ideas and innovations that are truly altruistic. I'm a mom, too, and motherhood has made me deeply discerning. If we're going to ensure our kids and grandkids have a hospitable planet to live on, we need to act quickly on promising solutions (like cell ag). 
I love writing and researching, and I'm fascinated by human behavior. This led me to study history as an undergrad, a winding path that eventually brought me full-circle back to my activist roots. After graduation, I worked in fundraising for the University of Rochester and fell in love with the power of philanthropy. It was human. Heart-centric. I was building authentic relationships that helped donors realize their vision for a kinder world and helped students access an education that would've otherwise been out of reach. It was anything but transactional – it was truly transformational. 
I wrote my master's thesis on building a culture of philanthropy and remain a lifelong student of fundraising ethics and emerging trends. To me, fundraising isn't about money. It's about people. It's about one human sitting next to another collaborating to leave the world a little better than it is now. 
Work aside, I live in Southern California with my partner, Eric, and my 2.5 year old daughter, Lily – the loves of my life. Spending time in nature fills my cup and reminds me of our interconnectedness. I love to sit and read by the ocean, hike in the mountains, and bike around town. Writing is my favorite "hobby" and traveling brings me a lot of joy.
HOW DID YOU HEAR ABOUT CELL AG? WHAT HAS YOUR JOURNEY BEEN?  
I initially heard about cell ag after a shocking encounter with a factory farm that arguably altered the trajectory of my career. I was researching innovative approaches to transitioning away from industrialized animal agriculture and came across an article on the potential of what at the time was referred to as "clean meat." I remember calling my best friend and saying, "this is it — I've got to leave higher education and fundraise for NPOs (non-profit organizations) working in this space". And lo and behold, a few months later I was doing exactly that at the Good Food Institute. 
WHAT WERE YOU DOING BEFORE YOU CAME TO NEW HARVEST?
Most recently I was consulting with nonprofits on fundraising strategy and coaching for-profit executives on the art and science of pitching. On the NPO side, I worked with a few really incredible orgs that solidified the optimism I feel for climate solutions (including New Harvest!). On the for profit side, I coached a client for Shark Tank who ended up landing a deal with Mark Cuban. Prior to that, I spent five years in philanthropy at the Good Food Institute and five years before that fundraising at Keuka College and the University of Rochester. 
WHAT ATTRACTED YOU TO NH? 
It's funny, I was a huge NH fan for years prior to joining the team. I was really drawn to Isha's candor and vision. Whenever the industry — cell ag — felt to me like it was veering into extractive, unhealthy patterns, Isha's watchful eye and sober perspective felt like an anchor. I spent the  last year consulting with NH and confirmed that Isha really walks the walk. And she assembled a team that does the same — a brilliant group of humans who care deeply about having difficult conversations and course correcting when necessary.
WHAT IS YOUR VISION FOR NEW HARVEST'S COMMUNITY OF DONORS? 
New Harvest's supporters amaze me. They're visionary at their core, which is why they've voted for a chance at a brighter future through their philanthropy. I hope every member of the New Harvest community feels the gravity of their support — that they understand the reverence we have for the role they play in our functioning — whether they give $1 or $100,000. As a small nonprofit, we don't exist without our supporters. 
My broader vision is a tight-knit, global, diverse community of change-makers who unite under our common mission. I hope our supporters feel a sense of accessibility and I hope they know their voices are heard.  In the coming months and years, I'd love to open our virtual office doors even further, inviting opportunities for everything from casual conversations to quarterly chats with Isha. Feedback is always welcome at New Harvest, and that extends to our community of supporters. 
I envision collaboration: not just  New-Harvest-to-donor invitations to support our work, but folks with a shared vision connecting each other (and us) to creative sources of funding regardless of their background or industry.
WHAT IS YOUR FUNDRAISING PHILOSOPHY
People first, always. I believe in building relationships built on mutual trust. Fundraising is sacred work. It's an honor.  I have no tolerance for transactional fundraising. Giving and receiving money is a transfer of energy, intention, and responsibility — it's not something I take lightly. I bring an open heart and an open mind to my work and I move through relationships with authenticity. Raising funds with integrity and sustainability requires a real — not just a stated — commitment to transformational philanthropy; a commitment to introspection and reevaluation. I think all of us want to be part of something bigger than ourselves. Conscious, collaborative philanthropy weaves a web of interconnectedness while driving progress for future generations.
HOW DO YOU SEE NEW HARVEST HELPING TO MAXIMIZE THE POSITIVE IMPACT OF CELL AG?
If cell ag is actually going to transform the food system, if it's actually going to solve systemic harms, we first need to be sure it doesn't create a whole new set of problems. New Harvest is doing exactly that — they're not pushing the industry ahead blindly — they're focused on ensuring that the transition is just — for all — not just for some. They're also funding overlooked (yet crucial) research topics like the sociological implications of cell ag. If there's any org that should be the authority on cell ag, it's New Harvest. If there's any org that can inclusively ignite collective action, it's New Harvest. And it's exactly the combination of strengths New Harvest brings to the table that we need — as an industry — to bring this technology to the table ethically and sustainably. 
WHO DO YOU THINK MAKES A GOOD MATCH FOR DONATING TO NEW HARVEST?
Anyone who holds a strong vision for a world with less suffering should explore New Harvest's theory of change. Specifically, if you're interested in the intersection of innovative technology and climate solutions, let's talk. Cell ag touches myriad cause areas — from food insecurity to biodiversity to animal protection. If you want to make a gift that could solve global problems and want to invest in a team that is doing so ethically and transparently, let's talk. We won't "take your money and run" — we love to build long-term partnerships and invite you into our thought processes, too. 
IF YOU COULD TRY ANY CELL AG PRODUCT, WHAT WOULD IT BE AND WHY?
I'm from Upstate New York, so biting into a chicken-wing with buffalo sauce actually makes me salivate. I think we're years away from bone-in cuts, so in the meantime I'd be curious to try cultivated salmon — I love the taste and it reminds me of living in Seattle in my early twenties.