A variety of situational factors made this project no longer an effective use of donor dollars. Some of the reasons for discontinuing this work include 1) an ambitious project that was not meeting the proposed timeline 2) challenges of the Research Fellow addressing a more "unconventional" approach to tissue engineering, 3) inadequate research support in this new field from the existing scientific community. New Harvest has made several improvements to the Fellowship program based on following the progress of this project.
Background
In 2015, New Harvest received a proposal to fund a PhD in cellular agriculture — the first of its kind in the world — from a student at King's College London named Abi Glencross.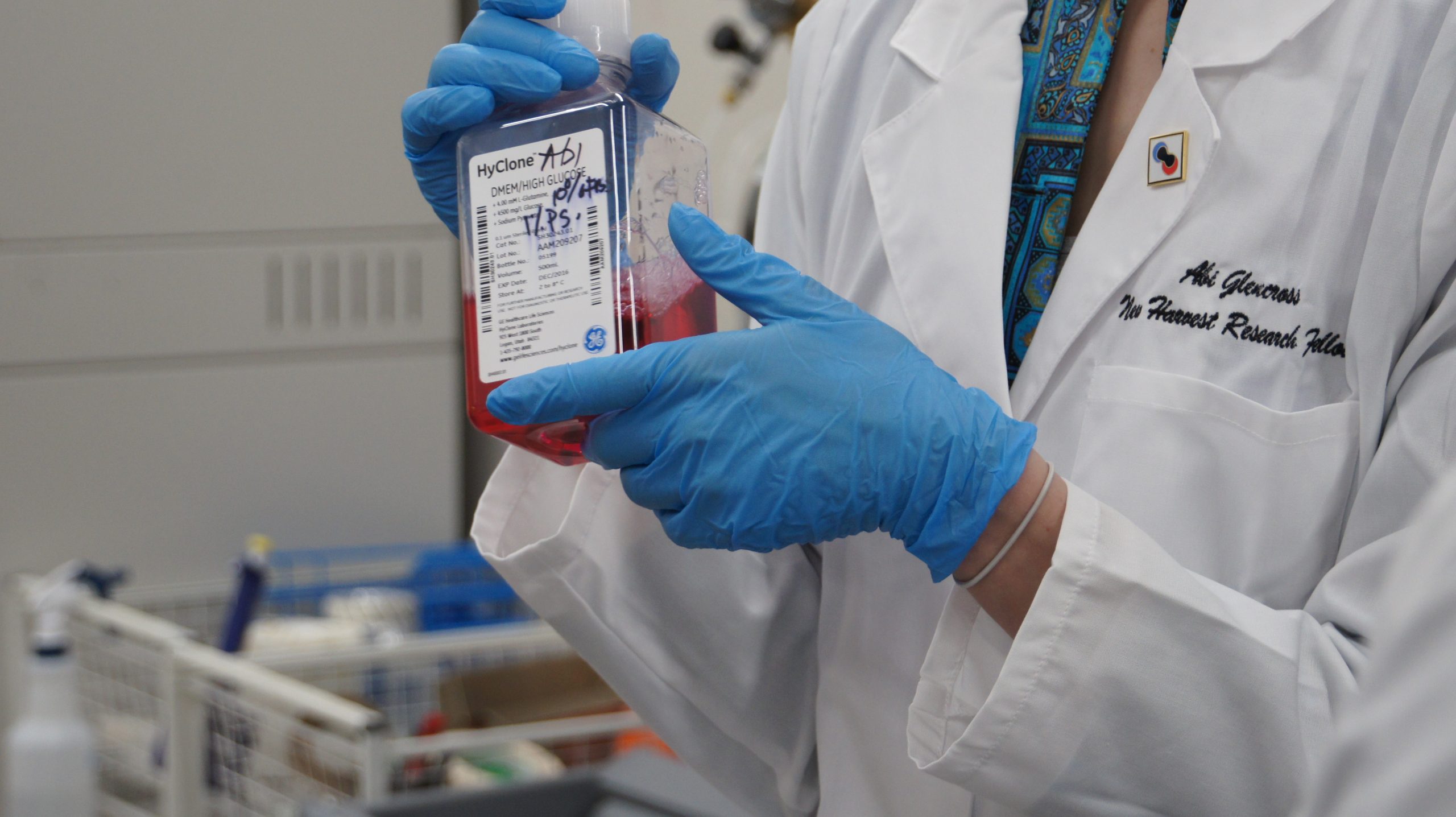 The proposal was vetted by two independent reviewers who acknowledged that the project was ambitious. Reviewers suggested diligently following the progress of the research to ensure that the aims of the proposal were being met.
Abi bravely went into uncharted waters with her study of scaffolding and vascularization of cultured meat, in the hopes of getting closer to culturing structured cuts of meat (an advanced step from the "ground meat" muscle fibre texture of the prototypes produced thus far).
As time went on the uncertainty surrounding the outcomes of this particular project became increasingly clear. Additionally, Abi was experiencing challenges being the sole student in her country, let alone institution, who was conducting scientific research in this particular field. Efforts were made to remedy Abi's situation — a visiting scholar opportunity abroad, a redirection of the project's parameters — but they did not suffice.
In April 2017 Abi and the New Harvest team decided to discontinue this project. It was the best way to proceed both for Abi, personally, and for New Harvest to make the most responsible use of its donor-funded research grants.
Logistics-wise — New Harvest will receive a full copy of Abi's laboratory notebook and will be working on how to best share the results that she obtained during her time as a fellow. Any unused funds will be returned to New Harvest from King's College.
Learnings and Implemented Changes
Throughout the course of Abi's project, New Harvest has made several improvements to it's Research Fellow program.
1. Disbursing research funds in shorter intervals
Abi's research was funded on a yearly basis. As of April 2016, New Harvest began disbursing research funds in 6 month intervals. This has helped to create something of a stage-gating mechanism to incentivize progress on a timeline, and to keep the New Harvest team and the Principal Investigator engaged.
2. Regular, scheduled, updates
Abi updated us on an as-requested basis. As of November 2016, New Harvest began requesting weekly reports from all funded Research Fellows. They are presented at the weekly meeting described below. New Harvest has also begun to engage more with Principal Investigators, beginning in the application process.
3. A weekly forum for scientific discussion
Abi did not have a forum for sharing the unique research challenges she was facing in the laboratory. As of November 2016, New Harvest began holding weekly Slack meetings with all Research Fellows and New Harvest Staff to discuss progress from the previous week and any challenges, questions, and concerns moving forward. It has also been a venue to request connections to expertise within and beyond New Harvest's network. These meetings have proven to be an incredibly educational, helpful, and lively pacesetter for the researchers.
4. The New Harvest Research Director
Every Research Fellow has an on-site supervisor — but none of them (so far) are full-time committed to cultured meat research. In January 2017, we put out a job posting for a Research Director to, among other duties, act as a remote supervisor for all of our Research Fellows. Kate, who begins in July, will be assisting the fellows on everything from day-to-day troubleshooting to redirecting the focus of a fellow's research project.
5. Face time
New Harvest would only see Abi in person at conferences and at rare site visits to her laboratory. As of March 2017, New Harvest has begun to hold twice-yearly retreats for fellows to build community and offer input on how to improve the fellowship program. Beginning July, we will be creating a schedule for regular site visits by the Research Director.
6. Engaging collaborative laboratories
In an effort to share knowledge and techniques, Abi proposed to be a Visiting Scholar with the Pelling Lab in Ottawa. This proved to be an incredible opportunity to propagate interest in cultured meat research in scientific circles while learning new techniques from the people who developed them. New Harvest is currently developing the structure for a Visiting Scholar Program built into the Fellowship experience.
7. Starting a research group
Some of Abi's challenges came from being a sole researcher with this focus in her laboratory. New Harvest is reviewing new research proposals that place two or more researchers within the same laboratory. We think there might be a greater-than-the-sum-of-its-parts outcome from having collaborators working simultaneously in person.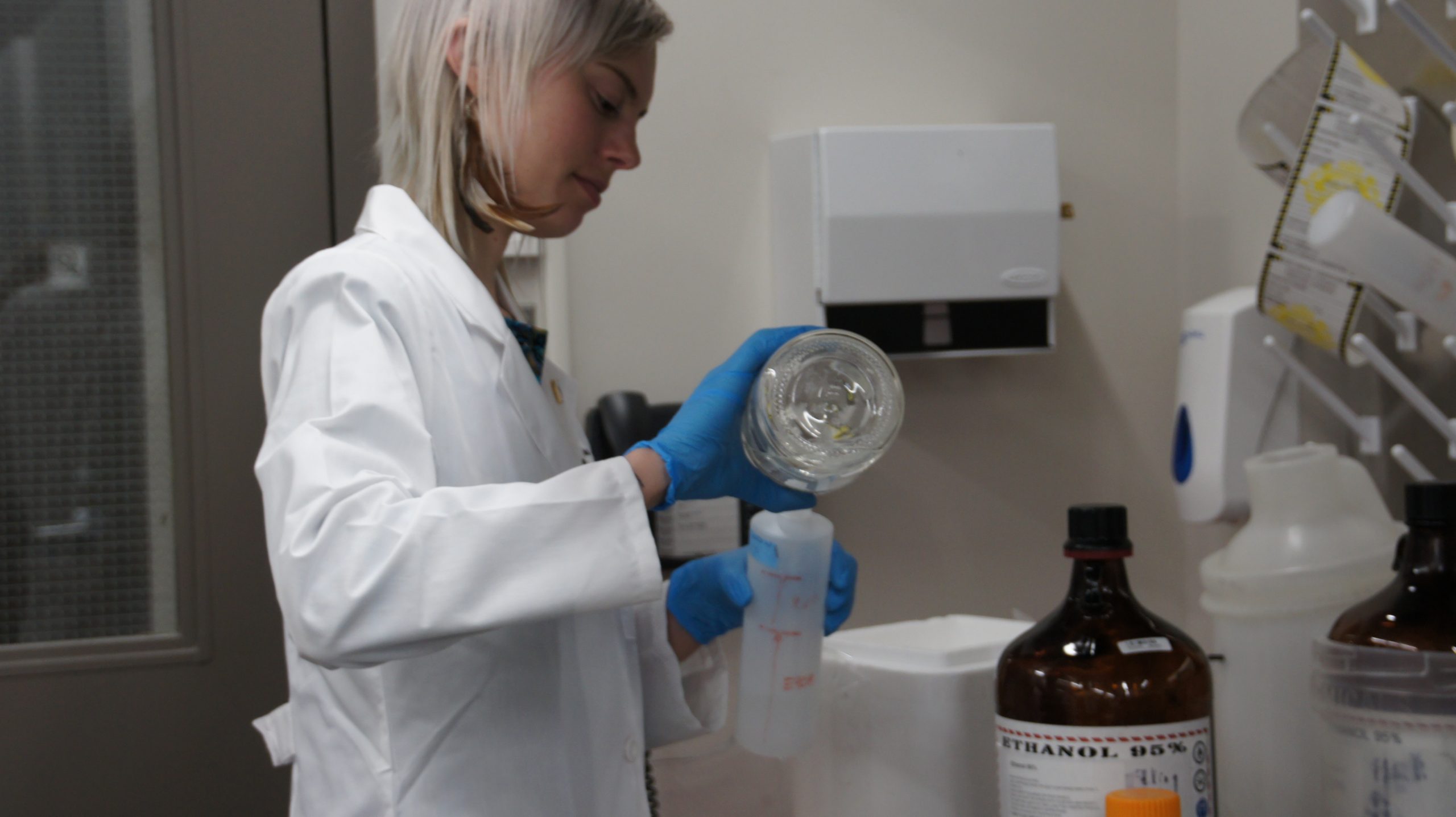 Closing Thoughts
New Harvest has learned a lot since funding this first research project. We hope that with adequate feedback loops in place and regular check-ins, we can continue to improve the Fellowship program while conducting valuable research. While Abi did not reach the point of writing a thesis — she did generate a lot of data, and did work on several experiments worth sharing. We're excited to share these results in the coming weeks and months.
In addition to her research, Abi has been a vocal advocate for cultured meat research and gave numerous lectures and media interviews on the topic. Abi's public engagement helped generate interest in New Harvest and the field of cellular agriculture in the U.K. and Europe. Abi's supervisor at KCL, Lucy Di-Silvio, remains eager to help New Harvest and the field at large.
Abi is a scientist who cares deeply about food, farming and the broader global food system. She remains a champion for cellular agriculture and a more sustainable food system, and a friend of New Harvest. We're thrilled to have had her as our first ever Research Fellow. Although we're sad to see her leave the Fellowship program, we're excited for what lies ahead — for her, and for New Harvest.