View Isha's Animal Rights Conference presentation here (pdf).
The Animal Rights Conference (ARC) is the largest annual gathering of animal rights activists from around the nation and world.  This year, the ARC is being held in Los Angeles, California from July 10th-13th.
New Harvest volunteers Sherrie Tullsen-Chin, Erin Kim, and summer fellow Natalie Rubio have accompanied Isha Datar to this important conference to represent the organization as a solution-driven approach to animal, human and environmental welfare.
Executive Director Isha Datar will be speaking tomorrow morning (July 13th) at 10:30am PST on a panel entitled Using Technology to Replace Animals in the La Guardia conference room of the Westin LAX Hotel. See Isha's presentation here.
Isha's talk will be an update on New Harvest's most current projects and successes to some, while to others it will be an initial introduction to the concept of cultured meat technology. We hope to gain support of activists by pointing to Ingrid Newkirk's award-winning NYT essay in support of cultured meat as "perhaps the only ethical meat" and the written work of Bruce Friedrich which claims "if Madison Avenue can sell meat from industrial farms, it can certainly sell the comparative advantages of meat grown in a clean laboratory without the filth, inefficiency and cruelty of the modern meat industry."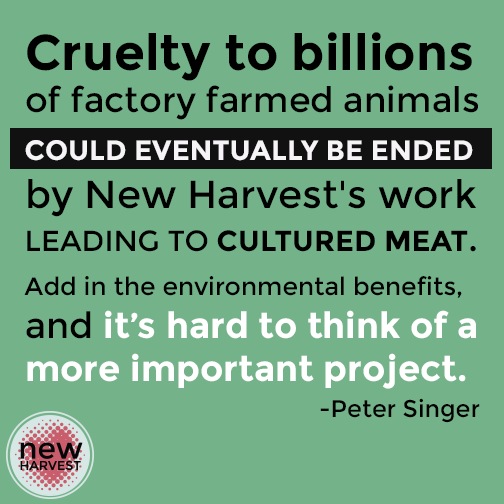 To become further acquainted with New Harvest's current projects, subscribe to our newsletter, and please consider making a tax-deductible donation to a future of humane, healthy and sustainable alternatives.