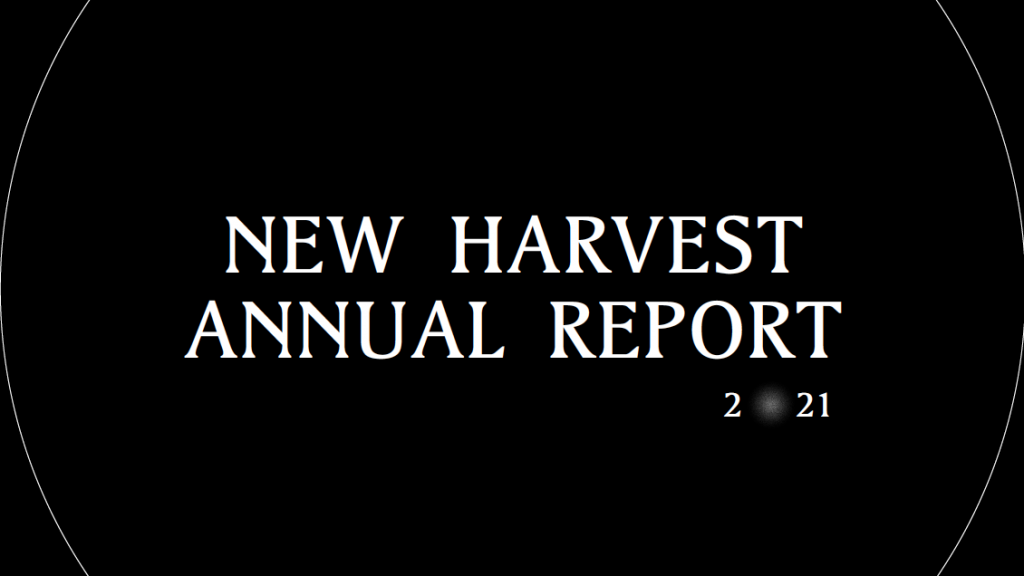 We can call cellular agriculture many things—an industry, a field, a science—but at its heart, it is a movement. As a friend of New Harvest, you are part of a constellation of people united by a shared mission: ending our dependence on industrialized animal agriculture.
Last year, we saw the movement build momentum like never before. We welcomed a record-breaking 327 first-time donors to help us meet our most ambitious fundraising goal yet: $2.5 million. Thank you to each and every one of our 507 donors who are not only brave enough to reimagine the future with us, but brave enough to try. 
Our 2021 Annual Report is truly proof of what this movement is capable of. Here are just a few highlights of how we advanced our mission of making cultured meat a reality last year: 
👩🏽‍🔬  Funded 37 researchers, our largest cohort yet
Why it matters: Without foundational research or expertise, the field of cellular agriculture doesn't exist. That's why we launched our research funding program back in 2015. Ever since, we've been empowering the emerging leaders to address the pre-competitive research questions needed to advance the science of cultured meat. Last year, the program produced one of the world's first cultured meat PhDs as well as research cited by the world's leading climate scientists. 
🌐  Collaborated on 10 projects with NGOs, researchers and government
Why it matters: Unlocking the full potential of cellular agriculture will not be achieved by market forces alone. We believe that ongoing innovation depends on a network of nonprofit, for-profit, and academic players moving in concert to push technologies out of the laboratory and into society. Everyone has a role to play, and our responsibility as a nonprofit is to ensure that this technology serves the public good. Last year, we solidified our role as a scientifically credible thought leader, becoming the go-to experts in several international collaborative projects like X-Prize: Feed the Next Billion. 
📖 
Published 9 peer-reviewed articles, with 27 more in progress
Why it matters: In recent years cellular agriculture has seen explosive growth in its private sector, but still lacks the public data needed to educate policymakers and the public and to establish standards and systems of accountability. By publishing open access research, New Harvest is helping to build up the public canon of knowledge. 
🔊 Garnered 1.7M views of our
TED talk
on the potential future cell ag makes possible
Why it matters: Too often communications around disruptive technologies tend towards overpromising. The TED mainstage was an incredible platform to share our complex vision for a more just and sustainable food system with our biggest audience yet. We took the opportunity to introduce newcomers to cellular agriculture and to paint a more thorough picture of the future that these technologies could afford us—beyond the hype. 
💸  Saw our largest return on investment yet, with the Kaplan Lab at Tufts University securing a $10M grant from the USDA to establish the first National Institute for Cellular Agriculture. 
Why it matters: Since 2016, the Kaplan Lab has been our biggest investment in a single laboratory. With just under $1M, we supported six New Harvest grantees investigating everything from how to grow cell-cultured caterpillar steaks to how to tailor the nutritional profile of beef. This means we saw our investment multiply tenfold with a single government grant! This is the first time a government agency that typically funds livestock research gave cultured meat the time of day—and we believe this will be the beginning of a greater influx of government funding for cellular agriculture, leading to true establishment of this field at the institutional level.
✍️ Contributed to 12 academic grants for cellular agriculture, submitted by research groups around the world
Why it matters: If cellular agriculture is going to deliver on its promises, it'll be because it has a thriving public sector driven by credible, public data. That's why, whenever possible, we jump at the opportunity to lend our expertise and perspective to grant applications geared toward advancing public research. One of the standout experiences last year was teaming up with the University of Fraser Valley Food and Agriculture Institute on a grant to investigate how cellular agriculture can empower communities to strengthen local food security. 
Why it matters: Written in collaboration with Vireo Advisors, the paper charts a path forward for how we can demonstrate the safety of cultured meat and provides policymakers with the critical public data they need to make informed decisions. It has already opened several doors with key policymakers, regulators, safety researchers and international NGOs. The paper also has since been cited in the latest United Nations Food and Agriculture Organization food safety report, which goes to show how critical this research is to establishing cell ag as a viable solution to meet our global sustainability goals. 
None of this would have been possible without your support. You are part of a growing movement dedicated to changing the way the world makes food, for the better. Thank you.