The numbers presented below are all contributions and expenses attributed directly to New Harvest. For a more detailed picture of our 2016 financials, categorized by class and expense type, check out our unaudited Profit and Loss Report.
Income
In 2016, New Harvest's primary source of income was unrestricted donations from our 550+ member donor community.
The secondary source of income was ticket sales and sponsorship for the New Harvest 2016 conference.
What is not represented here is the $380,000 commitment made by the Shuttleworth Foundation. The Shuttleworth Foundation funds individuals, not organizations. New Harvest's Executive Director, Isha Datar, is a Shuttleworth Fellow. This means that up to $380,000 is available for Isha to put towards open access cell cultures between September 2016 and March 2018.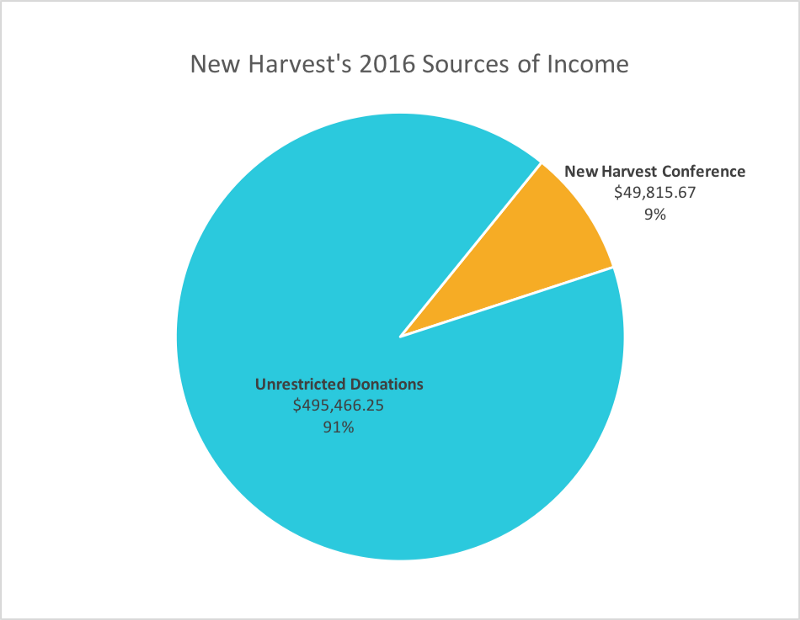 Expenses
We categorized our expenses into 5 categories for 2016.
Administrative expenses are those incurred by the general operations of New Harvest as an organization.
Fundraising expenses are those incurred by any fundraising activity that New Harvest undertook throughout the year.
The remaining three categories are Program categories.
Research is New Harvest's main ongoing program. Expenses in this category include all grants given directly to funding academic research, plus the staffing required to manage our research effort. In 2016, $137,624 was given as grants for research, representing 67% of the research program expenses in 2016.
Communications is New Harvest's second ongoing program. Expenses in this category include our media and social media effort, led by Communications Director Erin Kim, as well as any expenses incurred from giving keynotes, lectures, and panel presentations to spread the word about cellular agriculture.
The New Harvest Conference is our annual event to showcase cellular agriculture. Expenses in this category cover all the logistics required to put on the inaugural event.
With a team of three full-time staff and two interns in 2016, every team member found themselves working across multiple expense categories. As a result, payroll for each individual has been broken up by time commitment into the above five categories.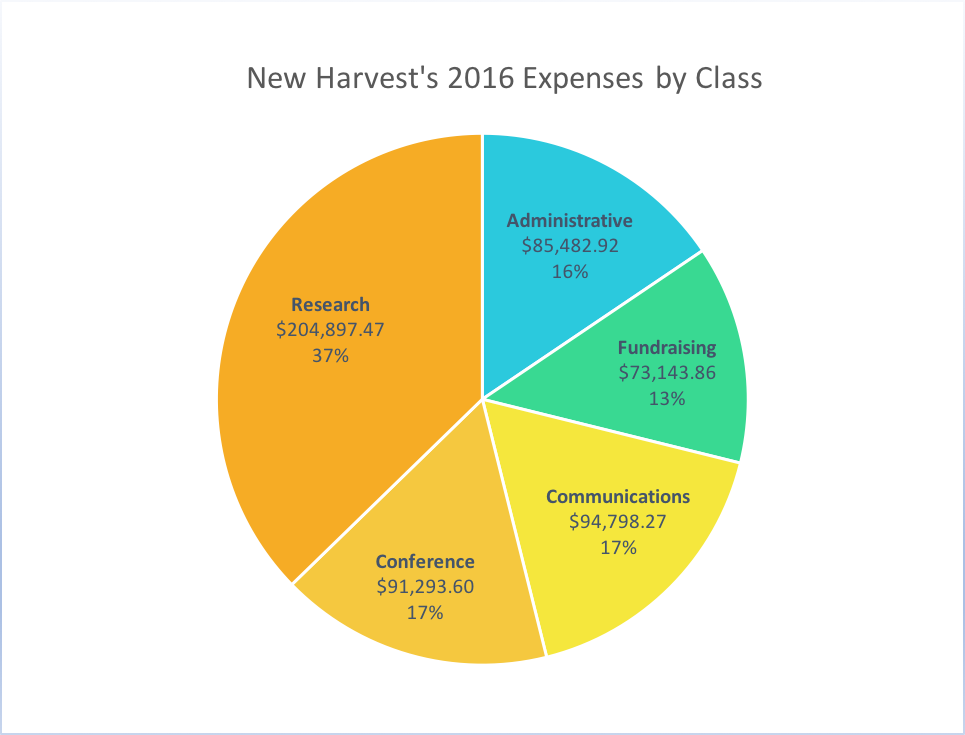 Reflections
Here are a few things we think will be different for 2017.
More income from the New Harvest 2017 conference. We have more confidence that we can bring in more sponsorship and sell more tickets for the second iteration of the New Harvest conference.
New income class: Communications. 2017 will see the introduction of a new category of income from paid, invited speaking engagements. This type of income is categorized as "Program Services" because it advances our non-profit goals.
The appearance of a smaller slice for Research in 2017. We anticipate a lot of our Research funding to come from the contribution from the Shuttleworth Foundation, and as a result, this may reflect as fewer dollars spent on Research in 2017. It is likely that we will complement our unaudited financials with additional data including the Shuttleworth funding to give a more holistic view of New Harvest's expenditures.
A smaller slice for Fundraising in 2017. We are proceeding into 2017 without a full-time Development Director, which should radically bring down our Fundraising expenses.
This was the first year that New Harvest categorized expenses by class, and the first time sharing the details of our expenses in a public forum. We're super excited to be embarking on a new level of radical transparency. Not only does this help our donors understand where New Harvest earns and spends its money, it also keeps us proactively accountable.
Many thanks to the New Harvest community for bringing us to this point. Onwards and upwards for 2017!